How To Get Rid Of Flyaways On A Wig?
Have you ever dedicated hours to primping your hair, only to find out that flyaways and frizz have destroyed the look? Unfortunately, this is a common issue with wigs - but it doesn't need to remain that way. We understand how upsetting it feels when your carefully crafted style has been ruined by unruly hair.
However, there are ways to fix this problem so you can rock each hairstyle perfectly. Battling flyaways and keeping your wig looking fresh can be a challenge, but not to worry! Today we're here to provide you with invaluable advice on how to get rid of flyaways on a wig and make you look fabulous. Let us guide you through this journey of taming those unruly hair strands.
What Are Flyaways?
Achieving a smooth-looking hairstyle can be extremely frustrating when flyaways ruin it. Flyaways are individual strands of hair that stand up instead of staying in line with the rest of your hair, and they typically occur due to broken or new baby hairs.
Using heat styling tools generally won't help tame them either, as their shorter and finer texture makes them less prone to bending. Dealing with pesky flyaways can be a challenge - they often refuse to submit under any amount of styling, resulting in frizzy hair. 
Even in arid climates where static electricity is minimal, these misbehaving strands still find their way onto the scene. But there's no need to despair! There are solutions available for those seeking smooth locks and flawless style.
What are the Possible Causes of Flyaways?
Although breaking and growth both have the potential to generate flyaways, there are additional factors that might make a person more prone to developing them. These factors are as follows:
1. Excessive heat styling
Frequently using heat tools like blow dryers, curling wands, and flat irons can weaken your hair or wig with brittleness and random breakage. This causes those pesky flyaway hairs that nobody wants!
2. Chemical damage
Chemical treatments such as bleaching, dying, and perms can be quite damaging to the hair. Repeated use of these treatments (or even one-time use) can cause your hair to become dry, brittle, and weak - resulting in split ends and flyaways.
3. Humidity
When the humidity in the air exceeds your hair's moisture levels, frizz and flyaways can occur. As a result of this imbalance, each strand is disrupted as high levels of humidity enter it and rearrange its inner bonds into an unruly mess.
4. Dryness
One of the most common reasons for flyaways is simply dryness. When your hair lacks moisture, it becomes brittle and prone to breakage - resulting in those annoying random hairs that just won't stay put.
How To Fix Flyaways On A Wig?
1. Get a trim
A regular trim may appear to be contrary thinking, yet it is the optimal way of managing flyaways. If your strands are accustomed to breaking and splitting, a routine cut can help keep them in order. Note that you don't need to go for radical haircuts - just enough so that your style remains intact and your hair doesn't suffer any damage. You could likewise settle on getting an expertly-crafted haircut tailored particularly towards minimizing flyaways and keeping everything coiffed!
2. Hair wax + hot comb
Believe it or not, styling tools like a hot comb can be your secret weapon to tame flyaways. Keep in mind to apply hair wax or hair spray on your wig flyaways to flatten your hair, and then comb the hair with a low-heat setting to avoid heat damage. You can also utilize flat irons or curling wands for fast touch-ups but remember - always use low heat settings to preserve your hair!
3. Try the dryer sheet hack
Last but certainly not least, we highly recommend the dryer sheet hack! With this excellent method, you only need one simple yet powerful item - a dryer sheet. Loaded with a gentle softener, it will help wipe away static electricity and dirt from your hair strands while taming flyaways. Just run the fabric across your head from root to end for beautiful silkiness in no time at all! Not to mention that it's an affordable option as well - making it one of our most beloved hacks ever!
4. Mascara
A clean mascara is an effective tool to fix flyaways right away. You can place one in your bag in daily life. It's small and perfect for catching every stray hair.
5. Proper hairspray
This is another easy method to tame your flyaways. Spray proper hairspray on your comb and brush your flyaway hairs to make them smooth. If you don't have hairspray in hand, you can also spray water on your comb.
6. Body lotion or hand cream
Body lotion or hand cream is a quick way to flatten your flyaways. Take a dab of body lotion or hand cream on your hand, and rub it. Then gently massage it into the flyaway hair strands. Keep in mind that don't squeeze too much。
How To Prevent Flyaways?
Have you ever had an unmanageable mane of flyaways? Taming those pesky strands can be a hassle, but it's not impossible. To help us get the smooth and glossy hair we desire, let's look into some of the top methods for banishing flyaways:
1. Choose a frizz-free shampoo and conditioner
If you're struggling with flyaway hair, it is wise to consider investing in a shampoo and conditioner specifically designed for the issue at hand. A hydrating conditioner can help tame your wig's unruly strands as well as encourage them to sit tight.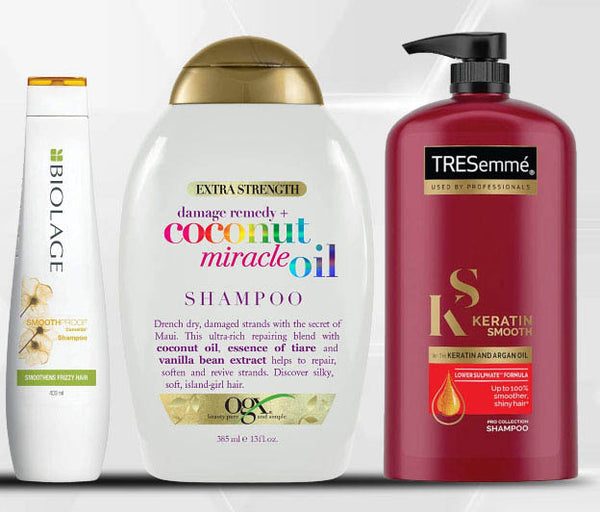 Similarly, moisturizing products are key when dealing with frizz; try less frequent washes or switch up your formula, then add an extra dose of hydration using a nourishing conditioner. You can even opt for special leave-in conditioners and treatments, the likes of which will help lock in moisture and keep your wig looking polished.
2. Reduce the use of heat tools
Heat styling tools are one of the biggest reasons that lead to dryness and frizz. The most effective way to prevent flyaways is to reduce the use of heat tools. This method can also prolong the lifespan of your human hair wig.
3. Use Hair Serum
For those of us battling pesky flyaways, a quality serum is the hero we need. A dependable formula helps combat split ends that can aggravate this issue. Serums seal around your strands to create an even look without frizziness, plus they add texture to help make them less likely to bend or fold over when styled. Whether you're wearing a wig or rocking natural hair - serums are key for conquering flyaways!
4. Use a keratin-infused product
If your styling struggles have gone unresolved, it might be time to explore keratin treatments to create a smooth and sleek canvas! Not only can they fill the gaps between cuticles, but they also add moisture and luster. To further enhance this effect, why not try out an infused shampoo-conditioner duo? This pair is designed for improved hair strength and protection against breakage - perfect for those who are after weightless tresses without any flyaways!
5. Apply hairspray when styling
Say goodbye to unruly locks - with this fast trick; you'll have your hair looking sleek and fabulous. Work quickly after styling your strands by locking in the look with hairspray. Not only will you enjoy a frizz-free finish that looks great, but any flyaways caused by wind or humidity are easily tamed too! Get ready to show off gorgeous hair all day long with this simple solution.
6. Try a microfibre towel
Looking for the perfect hair care product to manage flyaways? Look no further than your towel! The technique of "hair plopping" utilizes a cotton T-shirt or microfibre towel to dry strands right after stepping out of the shower. This is beneficial because these fabrics are woven tightly and aren't abrasive; as a result, this helps keep static at bay while allowing cuticles to lie flat, eliminating frizziness and pesky flyaways. You can also use a wide-tooth comb and low heat setting to eliminate flyaways.
7. Make sure you're using the right hairbrush
You may think it's an obvious point, but selecting the perfect hairbrush can make a huge difference in managing flyaways. If you're dealing with knotted locks? Reach for a detangling comb; brittle or delicate strands? A boar bristle brush is your best bet. And if you have long and thick tresses - opt for a paddle brush! By deploying the right tool that suits your hair type, not only will your mane look its absolute best, but any potential damage could also be avoided altogether. Flyaways won't stand a chance when armed with the correct apparatus and sheer determination!
8. Sleep with a silk pillow
Don't just take our word for it – all of you know that sleeping on a silk or satin pillowcase can reduce breakage and frizz. But did you also know that these materials are beneficial in combating flyaways? Cotton absorbs natural oils from your scalp, damaging the hair shafts and leading to unruly strands. On the other hand, silk/satin is smoother on the tresses while helping preserve your look over time! And let's not forget how much more delightful they feel against your head at night.
The secret to a perfect mane starts with these simple solutions - you'll be well on your way to head-turning hair in no time! With the right products and techniques, flyaways will become a thing of the past. Good luck!
FAQ
Should I Cut Off My Flyaways?
Chopping away flyaways may appear to be an effortless solution, but it is not a permanent one. Consider that flyaways are short strands of hair; when you cut them shorter, they'll temporarily blend with your tresses. When your locks grow out over time, the flyways will come back in full force - so instead of snipping off those pesky frizzies, try following these ten foolproof ways to keep unruly hairs at bay and achieve the look you desire!
What Is the Difference Between Flyaways and Frizz?
Although they appear similar, flyaways and frizz are two distinct issues. Flyaways happen when your hair doesn't have enough weight to stay down, meaning the shorter strands start to float up. On the other hand, frizzy strands usually match the length of the rest of your mane; this is often caused by damage or genetics - in addition to all those humid days. You can easily identify flyaways by lightly running your fingers through your hair. If any of the strands rise, they are likely flyaways! Keep these tips in mind, and you'll be sure to have a stylish mane free of both frizz and flyaways.
Do Flyaways Mean Damage?
If you spot flyaways on your head, they may be a sign of hair damage or new growth. To determine the source of your flyaways, inspect the condition of the rest of your mane - if it appears to be dry and brittle with split ends, then this is likely what has caused them.
Are Flyaways Broken Hair?
Unruly flyaways can be a sign of broken hair or breakage, but they may also appear due to frizz and dehydration, as well as baby hairs and new growth. Whether you know the cause of your flyaways or not, it is essential to limit heat exposure and chemical treatments to protect your locks. And bear in mind - managing flyaways doesn't have to be an arduous task! With the correct methods in place, you can keep them under control for stunning tresses all day long.
In a Nutshell
Who knew that such a small issue could be so complicated? Fret not; understanding even the tiniest details about flyaways can help you find the perfect solution to take the frizz out of your wig. Flyaways don't have to be an annoying part of life — combat them with easy fixes that work for your specific situation and personal style.
Whether you decide to try out a little bit of product, opt for some heat taming, or dedicate yourself to some consistent care and maintenance of your wigs, getting rid of flyaways is possible. So take the headache out of this common hair problem before it starts by hosting a crash course in taking the frizz out of your wig! It's time to go wig in confidence, knowing that you're fully equipped on the best ways to deal with flyaways on your wig.
---