Deep Wave VS Water Wave, What's The Difference and How To Choose?
When it comes to enhancing women's beauty, hair is one of the most critical parts of strengthening appearance, especially for black women. Human hair extensions and wigs play a significant role in this process. As the most popular hair textures in hair weave and human hair wig, Deep Wave hair and Water Wave hair are always compared.
Then how to distinguish the differences between Deep Wave hair and Water Wave hair? And which one should you choose? After reading this blog, you can get make an ideal choice!
What Is Deep Wave Hair?
Deep Wave hair is a virgin human hair cut from one young donor, known for tight and neat curls, and blends well in black women's hair. No matter if you want to add length or volume, Deep Wave hair extensions can help. If you are new to hair weave or wig or have no time to care for your hair, opt for a Deep Wave headband wig, which is super friendly for newbies. But when chasing a perfect hair look, a Deep Wave lace front wig or 360 wigs are more versatile.
Features of Deep Wave Hair
Deep Wave hair curls in one direction regularly, very neat and tight, giving you a powerful appearance.

Double Machine Weft, very durable.

Made of 100% human hair, and can be restyled, colored, and bleached.

Easy to maintain.

Long life span. Deep-wave hair can last over one year with proper care.

Deep Wave hair has bouncy curls, natural luster, and healthy ends, helping you to get glamorous hairstyles.
Benefits of Deep Wave Hair
1. Add volume and length
Whether you have thin hair or suffer from hair loss, Deep Wave wigs and hair bundles can support you achieve your desired luxurious look by adding volume and length. For black women, a perfect hairstyle is a key to obtaining confidence. The Deep Wave hair can add thickness to your natural hair if you are interested in increasing the volume of your natural hair. They will blend well and give the natural bomb look.
2. Natural looking
Deep Wave hair texture blends well with black women's natural hair since the curl shape looks similar. What's more, the natural black Deep Wave hair looks like growing from the scalp, perfect for women who don't want to be noticed they are wearing a wig.
3. Low maintenance
Unlike other hair textures, Deep Wave hair requires less maintenance. If you are bored with styling your wig every day, go get a Deep Wave wig. After washing and airing drying your Deep Wave wig, the curl can back to vibrant again. The only thing you need to do is keep moisture by applying elastin or hair spray.
4. Versatile
Deep Wave hair texture suits most face shapes. The curly and fluffy texture and volume can visually improve the oversized face or weaken the inherent impression of a relatively flat face.
What Is Water Wave Hair?
As the name says, the shape of Water Wave hair flow like water. When you come close to check, you can notice that there are opposite directions of curls. Which makes the wig looks more voluminous.
Water Wave hair can be short or long in different lengths. If you want to get a messy bob, there is no doubt that Water Wave bobs turn out the best. Whether you want to get a cute two-bun style or a daily look top bun, the bouncy Water Wave curls can flatter you better and show your personality and energy!
Features of Water Wave Hair
Water Wave hair curls in opposite directions, giving you a fuller look

Various hair types. Like Brazilian Water Wave, Peruvian Water Wave, or Malaysian Water Wave hair.

100% human hair, with a very soft texture, can be restyled and colored.

Double Machine Weft, hair not easy to shed.

Water Wave hair extensions and wigs can last over one year with proper maintenance.
Benefits of Water Wave Hair
1. Versatile
When you get a Water Wave human hair wig, most of the hairstyles you desire can be achieved, like half up, half down, top bun, and side part. The bouncy curl adds more fun to the styles and helps you appeal to more attention in the crowd.
Corresponding, Water Wave hair suits for almost everyone regardless the face shape and skin tone. It can completely show your personality according to the hairstyle you made. From elegant office lady, prom queen, to street shot fashion ikon. Nobody can reject such a versatile wig.
2. Boost your confidence
Many girls may feel frustrated when they don't have a nice hair look to match their outfits. They feel sad due to the tenuous hair or bothered by shedding hair. In this case, thicker hair can make you feel safe and enable you much energy to face life. That's what the positive side of a Water Wave wig brings to us.
3. Easy to maintain
When you want to get rid of heat tools like a straighter, curling iron to style your wig. Then opt for a Water Wave wig without much maintenance.
Like Deep Wave wigs, you can get a good hair appearance without the help of styling tools. Both of them are effortless wigs.
4. Longer lifespan.
Due to decreasing the use of heat tools and less washing than other textures of hair, Water Wave hair can last longer than other textures of hair. 
Deep Wave VS Water Wave, What's the Difference?
1. Curl pattern
Deep Wave hair and Water Wave hair curls look alike in appearance. When you put them together and close to see the strands, you can notice that the curl patterns are different. Deep Wave strands curl in the same direction, while Water Wave strands curl in the opposite direction.
2. Volume
The opposite curl direction makes Water Wave hair looks thicker and more voluminous than Deep Wave hair. 
3. Apparence
Both Deep Wave and Water Wave have their specific advantage. Deep Wave hair tends to reach neat hairstyles, while Water Wave tends to reach messy and casual hairstyles.
Deep Wave VS Loose Deep, What's The Difference?
When we mention Deep Wave hair, another texture will be referred to as well. Loose Deep hair texture. What is Loose Deep hair? We can get some meanings through reading the name, it is a kind of human hair combining Loose Wave hair and Deep Wave hair.
Loose Deep Wave hair: The features of Loose Deep hair are more apparent in Loose Deep Wave hair bundles. It has the same features as Deep Wave hair. Curls in the same direction regularly, but curls are bigger than Deep Wave hair, more like Loose Wave hair. That is the reason why it's called Loose Deep Wave hair. It is a wig not too tight or too loose. If you are thinking of getting a natural and comfortable wig, a loose deep wave wig can be a good choice.
What's the difference between Deep Wave and Loose Deep hair?
1. Volume
Deep Wave human hair wigs and extensions look thicker than Loose Deep Wave hair even though with the same length and density.
2. Curl size
Deep Wave hair curls are tighter than Loose Deep Wave hair curls. As the name says, Loose Deep Wave curls are looser than Deep Wave. Suitable for an elegant and romantic hairstyle.
3. Apparence
Since Loose Deep Wave hair texture is looser than Deep Wave hair texture, it looks longer than Deep Wave visually with the same length. 
How To Choose From Deep Wave, Water Wave, and Loose Deep?
Now that we have known the features of each hair texture, how can we do the best choice between Deep Wave, Water Wave, and Loose Deep? Here are some factors you can take into consideration.
Your preference. 

This is a very personal choice for every girl. Whenever you get a wig, happiness and confidence are the most important. So opt for a hair texture that you like and can show your personality and energy best.

Knowing the ideal look you chase. 

When you are wondering to choose a perfect wig, you may imagine the final look in your mind. Deep Wave wigs and Loose Deep wigs turn out vigorous and sassy, while Loose Deep Wave wigs convey elegance and glamor.

Consider your daily outfit.

 If you need to participate in many important occasions and require complex hairstyles, long Water Wave and Loose Deep Wave wigs are ideal to match your outfits and increase your glamour.

Consider your lifestyle.

 For example, if you are always busy with work and don't have much time to wash and care for your wig, low-maintenance wigs are the best choice, like Deep Wave wigs and Water Wave wigs. 
Deep Wave/Water Wave/Loose Deep Hairstyles Inspiration
Short Blunt Color Bob Water Wave
A short bob wig is one must-have hairstyle in summer or any season because it is easy to install and take care of. Besides straight bob, water wave bob sits right behind, winning praises for the flow curls.
To get this style, you can contact your hairstylist or cut by yourself if you are a genius at cutting hair. The easiest way is to get it from online hair stores.
Half up Half Down Deep Wave
For this half up half down hairstyle, you need to get a deep wave lace front wig that can show your beautiful and complete hairline. This hairstyle is easy to get by yourself. Grasp your front hair, then secure it with a colorful scrunchy or do a space bun on top. If you love a messy and casual look, you can pick out some hair strands around your forehead. Just let them come down naturally.
Red Brown Side Part Loose Deep Wave
The side part hairstyle is friendly for novices. Take out a tail comb and part the reddish brown hair to the left or right side, and adjust it until it is perfect. Fix the parted hair piece with the hot comb and blow it directly with a hairdryer until the hair is flat. A side-part hairstyle is done!
How To Maintain Deep Wave, Water Wave Hair?
1 Wash wig regularly
Frequently washing can decrease wig lifespan. It is best to wash your wig after 6-8 wears. It also depends on how long you wear it, how many hair products you put on the wig, and the wig state. If the wig looks become greasy and dirty, it is time to do a wash.
2 Wash wig correctly
Wash the wig doesn't require complex steps, just treat the wig like your own hair and keep gentle all the time. There are some tips you need to pay attention to.
Detangle the wig with a wide-tooth comb before washing.

Choose hair shampoo that is sulfate and parable-free.

Wet and rinse your wig with lukewarm water.

After washing the hair and applying conditioner, give your hair more time to absorb nutrients and moisture.
3 kept wig well-hydrated with hair oil
For wigs with curls, keeping well hydrated is very important to make your wig in good status and prolong the wig's lifespan. It is suggested to apply hair oil when the wig is in a semi-dry state. You can also prepare a bottle of water spray when the hair is dry.
4 Don't sleep with your wig
According to exports' suggestions, sleeping with your wig can decrease the wig's longevity. The friction between your hair and pillow can make your hair strands dry and easy to get tangled. If you are required to sleep with your wig, it is best to wrap your hair in a satin cap or change to a silk material pillowcase.
How To Keep Water Wave Or Deep Wave Hair Looking Wet?
There is no doubt that wet hair can look glamorous, elegant, and sexy, and the best part is that it doesn't require much effort and is suitable for practically everyone. That is the reason why most women embrace wet hair looks. Then how can we get a wet hair look with a Water Wave wig or a Deep Wave wig?
For a short-time wet look, you can get help from some hair products like mousse, gel, pomade, and wax. If you want the wet look to last longer, here is the guide about how you can do it.
STEP1: Wet your Water Wave or Deep Wave wig with water. This doesn't mean only dampening the hair, it means that we need to saturate the hair to activate the waves or curls. You can dip the hair into a basin or bucket full of water, or you can take a bath and make sure to saturate the hair with water.
STEP2: Separate the hair. After wetting the wig, you can part the hair into four or six parts. Apply much moisturizer to each part until coated completely.
STEP3: Apply hair oil to each part. You can use some natural oil like coconut oil or olive oil specifically designed for curly hair.
STEP4: Comb the hair. Your hair should still be dripping wet at this step. Comb each part of the hair gently, and remember don't separate the hair.
STEP5: Air dry. After combing all the hair, place your Water Wave or Deep Wave wig on a wig stand and let it air dry completely. Don't touch your wig in this process, let the hair dry to the wave or curly pattern it is supposed to be.
Where To Buy High-Quality Deep Wave, Water Wave, Loose Deep Hair Extensions, And Wigs?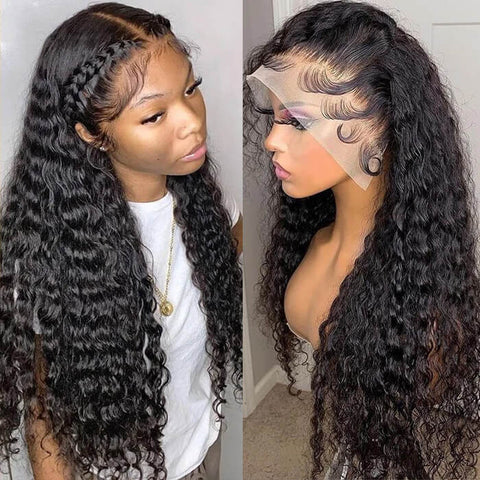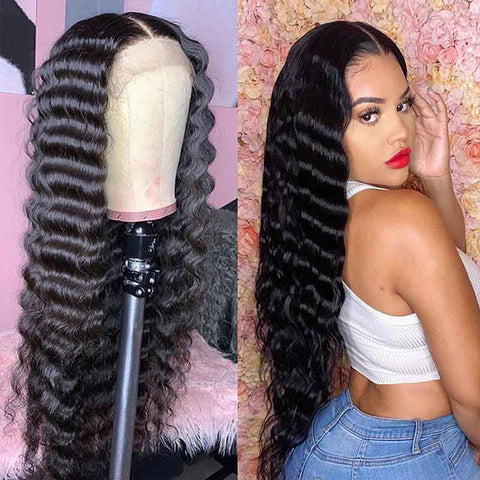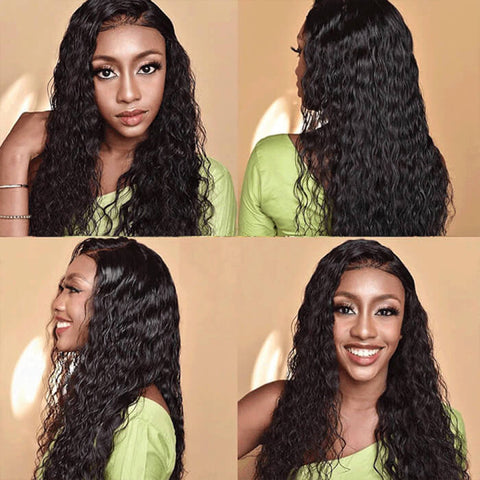 ---