Top 20 Stylish Wedding Hairstyles For Black Women 2023
Black girls, you're blessed! You've got thick, dense locks that swell with personality. Now when it comes to your wedding day, finding the right hairstyle makes all the difference. Don't let the hunt for "the look" be daunting. We've eliminated all your worries by presenting the ultimate styles collection – elegance perfected! 
With an event like this, you won't have to worry about looking glamorously gorgeous: It's guaranteed! Check out these 20 stunning wedding hairstyles for black brides specifically curated for turning heads on your special day. Let's get ready for THE day of days – and top it off with one of these timelessly beautiful hairdos! Will it be an intimate gathering or a grandiose bash? No matter what you pick, you'll make sure everyone gazes in admiration.
1. High Ponytail
Let's kick off our lookbook with one of the all-time favorite styles for black women: a high ponytail! Rocking this simple yet sophisticated hairstyle is perfect for absolutely any type of hair and texture -- long, straight, curly, or wavy. Both 360 wigs and full lace wigs can help you to achieve this hairstyle effortlessly.
Create an effortlessly timeless look that oozes elegance simply by matching your unique style to your natural hair texture -- sleek waves for a sleek and chic look; crazy spiraled curls if you're into more playful vibes. And when you've achieved your desired masterpiece, why not spruce it all up with some of those trendy ponytail extensions? Time to dazzle the aisle with your polished glam look!
2. Long Loose Deep Waves with Deep Side Part
Your wedding day should be a day that you feel beautiful and have everything reflect your inner beauty. For your special day, consider an effortless yet romantic-looking hairdo: long, lush waves parted at the side. 
With this classic style, you'll find frames around your face, bangs gently sweeping across your forehead as wild tousles cascade down your back – absolutely stunning! And don't forget about the mesmerizing breeze it will create as you walk down the aisle! Get the same look with this loose deep wave wig!
This look never gets outdated, so why not give it a go? Add definition and whimsy with soft curls here and there for an extra dose of jaw-dropping glamour. Don't miss out on achieving a perfect wedding look!
3. Colored Afro
We know it doesn't come to mind as the first option when picturing a wedding hairdo, but that doesn't make any of us less thrilled when we see a bride with an afro style! Dare to be unique and bring out the natural elements of your locks for maximum texture depth and simply sublime volume. 
With this look, you can skip out on the typical sweetness and bring your bridal style to life with some artistic twist. Go wild with fabulous hues, from subtle shades to bold statement-making colors – they'll completely satisfy all desires for unforgettable vibrancy! 
But if even more classic glamour catches your eye, ride the side of timeless with ebony or espresso locks and still feel utterly pride in going against what you expected. Own your own gorgeousness, adopt these unique styling ideas, and go out in the world wearing a head-turning look that shows off justice to the awesome structured feat of hair art!
4. Cornrows and Curls
Every black woman can appreciate the undeniable beauty of cornrows! Not only do they look stunning – their straightforward, hassle-free styling means you're guaranteed to get a fabulous hairdo that's easy to maintain. And the completely versatile nature of cornrows makes the possibilities almost endless when it comes to accessorizing, whether it's with flowers, feathers, gems, or even a veil! 
Plus, combining them with curls adds extra volume and texture that will leave you looking and feeling truly glamorous! No matter what style you opt for, you'll be sure to have a hairstyle that not only looks amazing on the day but last in your memory for years to come. Go ahead and let your curls be free – with cornrows on your head, nothing can stand in your way!
5. Low Bun with Twists
Who says classic styles have to stay in the past? With the right technique, a low bun hairstyle can still look beautiful and puts the perfect twist on a wedding hairstyle!
Lift up your hair with some subtle twists that add some flair to the sides for a modern spin. And you can't forget the accessories – its statement-making abilities will place you firmly at the center of attention. 
Showcase your elegance and grace with this timeless hairdo worthy of royalty. In addition, since it requires very little upkeep, you can easily transition from daytime to nighttime without the need for touch-ups. Prepare yourself for a barrage of compliments!
6. Flower Crowns and Loose Waves
Wedding hair is the perfect time to try something a little bit different! Flower crowns are absolutely bridal chic, making for a glamorous look that'll take your big-day aesthetic up several notches.
Get creative with the combination of these gorgeous blooms and some alluring loose waves! Tousled curls can make each flower petal pop like never before –whether you've got straight or curly hair, the combination works great on any hair type! 
Add some sparkles from earrings or headbands for even more of a shimmery finish, allowing you to dazzle in your wedding look most of the day. Let yourself be effortlessly beautiful and shine just as bright as those vibrant blooms to complete your kind look.
7. Braided Pompadour Updo
The braided pompadour updo is one of the trendiest wedding hairstyles out there and definitely won't be forgotten! Its edgy and modern vibe with its intricate weave gives endless accessory possibilities – think bold knots, luscious bows, or subtle pearl clips. 
Pair this majestic style with a touch of romanticism through soft curls or waves to create the ultimate princess look – you'll turn heads as you stroll down the aisle. With its vibrant texture, your face will be perfectly framed, adding playful drama guaranteed to make unforgettable memories. Get ready for an amazing moment in an outstanding style with a braided pompadour updo!
8. Shaggy Hairdo
Going with a shaggy hairstyle for your wedding look may seem daring, but the end result is truly amazing! Every strand of hair can be wild and free while simultaneously exuding sleek sophistication. Tousled waves or relaxed twists bring an effortless yet romantic aura to your style. And guess what? Being bold doesn't sacrifice beauty.
Show off your natural texture and make everyone stand out with this show-stopping style. Don't be alarmed by opting for something different on your special day – instead, embrace it and bask in the beauty that unique hair brings!
9. Sleek and Low Puffy Ponytail
Spend the morning perfecting your wedding 'do with the classic ponytail! This sleek, low version is a great option for brides and bridesmaids alike; it's fun, creative, and impressively easy to replicate.

Regardless of whether you prefer natural or relaxed hair, human hair extensions give you a chance to make yourself look much cleaner and sleeker. Feel free to get playful with accessories – from hair clips and pins to ribbons or headbands, and brighten up your look in whichever way appeals to you. 
Add some bursts of elegance by sporting jeweled accessories such as pearls and jewels – perfect any outfit through subtle color pops. All these come together beautifully with a bold lip color! Tie everything up with a dominating spray of hairspray, and voila: an unforgettably gorgeous look that is wonderfully unique!
10. Red Hair
If you're ready to make a bold statement, there's nothing like a classic style with a twist! Fire engine red hair is the perfect way to show off your fiery personality. Whether you want an intricate updo or something more laid back, this tuck n' roll look combines the best of elegance and confidence. 
From its stunning details to its distinct deep red hue, this hairdo is sure to make you stand out from the crowd. If you want some extra drama, head-turning curls can prove just as pretty too! This combination of fiery locks and a confident attitude is the stuff dreams are made of; best of all, it will stay with you wherever your memorable journey takes you!
11. Half-up wedding hairstyle with barrel curls
Stand out on your special day with this exquisite half-up wedding hairstyle! Get a graceful and timeless look that you can be sure to cherish in photos forever. With an accessory or a jewel-toned veil, you can add extra flair for some added pizzazz. 
This hairstyle can be achieved with your 4c natural hair, natural but pretty! When finished, marvel at yourself in the mirror – shining bright like the stars with so much flair and zestful energy that only a goddess could put off so beautifully. Embrace this timeless style along with countless unforgettable wedding photos!
12. Money Piece Bob
Brides, listen up! Step away from the classic updo and switch it up with a voluminous bob. This style is the perfect balance of chic and sleek. But wait, it gets better! Add some money pieces to your look, and you're in a whole mood, girl! 
Give your hair some honey-toned highlights or vibrant ombre shades for extra glam. A spritz of styling spray will boost your shine and protect those colorful locks. Keep in mind thin hair, babes, and a thick mane plays best with this look. 
If you're not #blessed with thickness, add some volume with an electric curler or rollers. Add some sparkle with hair clips, barrettes, or headbands to really make those vibrant blooms jealous. With this shimmery finish, you'll shine just as bright.
13. Finger Wave Updo
Feeling the need to hit refresh with your consistent up-do? We've got exactly what you're looking for! When searching for a wedding hairstyle that looks polished without spending all day in front of the mirror, this finger wave updo is minutes away from having you poised and elegant.

Its simplicity will elevate your look in an instant and takes next to no effort! Strut your stuff with this classic vintage inspired 'do bound to make people turn their heads for a double take. Whether it's saying "I do" or ready for a thrilling night out, make sure to add this updo to your look list! Shine bright and score brownie points with this awesome hairstyle!
14. Loose Fishtail Braid
Fishtail braids may seem complex and difficult, but creating one is not as daunting as it looks. Let the beautiful outcomes of this one inspirational style outweigh any fear you may have. Undoubtedly a glamorous look that will trickle down your back, perfect for black women on their wedding day.
Accessorize accordingly with accents of jewels and fresh flowers, or rock a headband to add unique glamour to your special day! Loosen the braid into an eye-catching wave that will certainly grab attention. Don't be afraid of something different and out of the ordinary--step beneath the spotlight and positively shine throughout your entire event!
15. Half Braided Half Down 'Do
Last but certainly not least, if you want the best of both worlds, a half up half down 'do is the perfect style. Enhance your natural curl pattern by focusing on small sections within the front for ultimate shine.

With a quality curl cream, those gorgeous curls define perfectly and gain some edge. When it comes to adding an extra touch of glam to this look – accessories are key! Opt for hair clips, pins, ribbons, and headbands – pieces that make any 'do eye-catching. 
To polish off the masterpiece, keep your hair in place with hairspray and bold lip color for some extra flair! All these factors combined make this look completely yours. This one's destined to be showstopping – so strut with grace and confidence toward your big event, and don't be afraid to shine with endless elegance!
16. Romantic Updo with Side Bang
If you're a bride looking for a truly remarkable look, this romantic updo is the perfect fit. Hear us out because we can't help but swoon over this breathtaking style! The secret to success lies in the details: side-swept bangs and structured curls give plenty of volume and texture so that you can show off all your best features.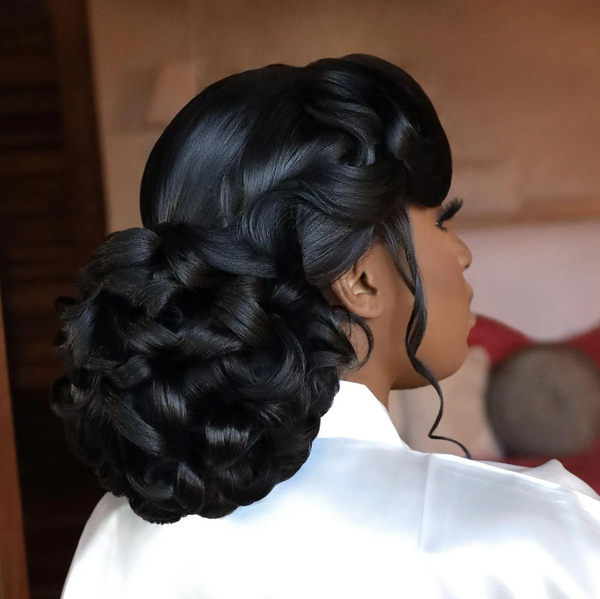 Adorn your hair with small flowers or decorative pins to add an extra special touch that will bring the entire look together. Unleash your dazzling style on your big day and watch your guests travel down a fairy tale journey of romance with this timeless style making heads turn left and right. This is artwork that won't be forgotten any time soon – don't hesitate – to create!
17. Curly Low Bun with a Side Part and a Tiara
To be honest, this style is a sight to behold! This regal look will surely draw attention and make you feel like royalty. To achieve the low curly bun with a side part, start by brushing your curls so they are soft and tangle free. Then gather your hair into one big ponytail at the nape of your neck or wherever you'd prefer it to be. Secure with a hair elastic, and begin looping your curls around the first elastic.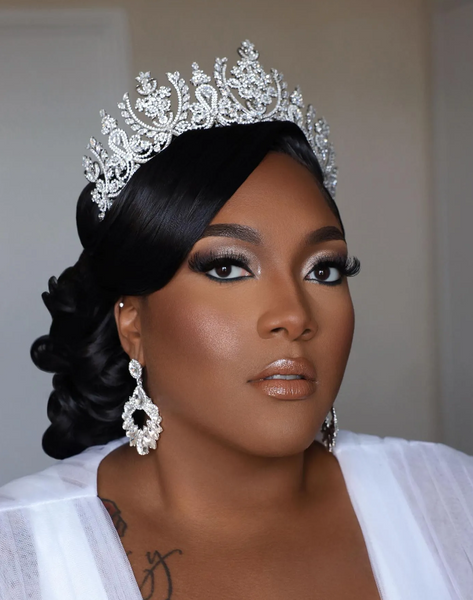 Once completed, secure the bun in place with some pins and add a tiara to make it extra special. Finish off with hairspray for extra hold, and voila – you're ready to walk down the aisle! You'll definitely dazzle in this timeless style that exudes elegance, beauty, and grace.
18. Vintage Hollywood Waves Bridal Hairstyle
Ah yes, the classic Hollywood glamour look! We all know it and want it! But the best news is – you can have it! To achieve that stunning vintage style, begin by washing your hair with a nourishing shampoo and conditioner. This will leave your locks silky soft, and manageable. Then why not add a touch of mousse for a bit of extra texture? Next, use an electric curler to curl sections away from your face for those beautiful and romantic waves.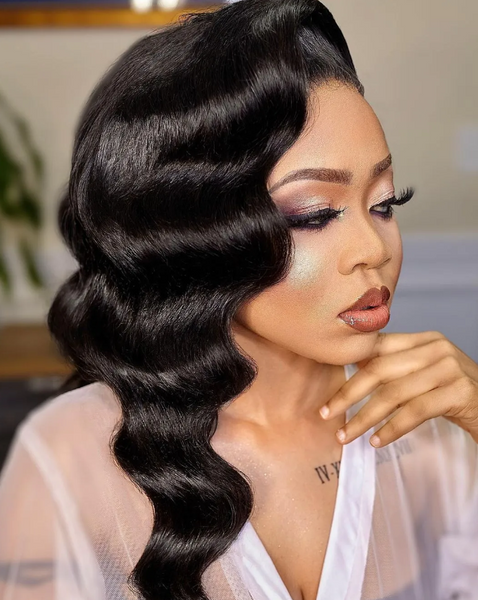 Once you're done, slide in a brush to create added body and hairspray for hold. To truly turn heads, why not accessories with some dazzling diamond clips or a spectacular sparkly headpiece? Now you'll be ready to set off on your big day looking like true Hollywood royalty!
19. Faux Hawk with Curly Bangs
Listen up, ladies! If you're a black bride wishing to flaunt your gorgeous natural curls but still look jaw-droppingly elegant on your big day, we've got you covered! Here's the scoop: if your curls are a bit meh, you can always add more texture and volume by curling your hair.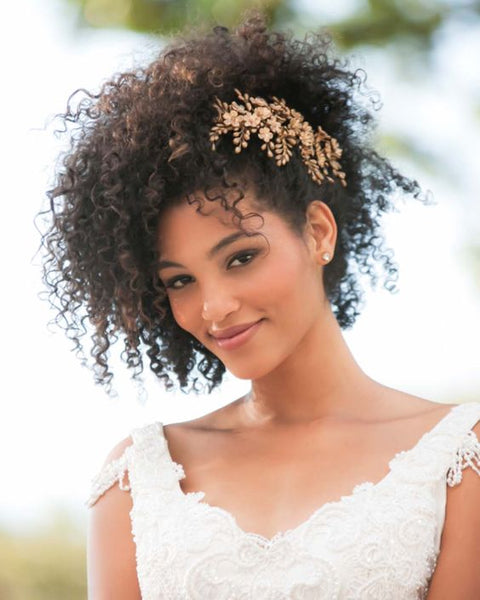 To get the look, create a side part and pull the top section of your hair up into a high ponytail on the crown of your head. Make sure to tease and curl the strands framing your face to give them some oomph. Lastly, gently twist and tuck those locks into the back of the ponytail, give them a few sprays to hold, and voila! You're all set to slay your wedding!
20. Messy Bun with Side Bang and Loose Curls
Ladies, if you want to wow everyone and be the belle of the ball at your wedding, listen up! We've got the ultimate hairdo for you: a messy bun with a bang and loose curls. It perfectly showcases your natural beauty and will stay flawless all night long.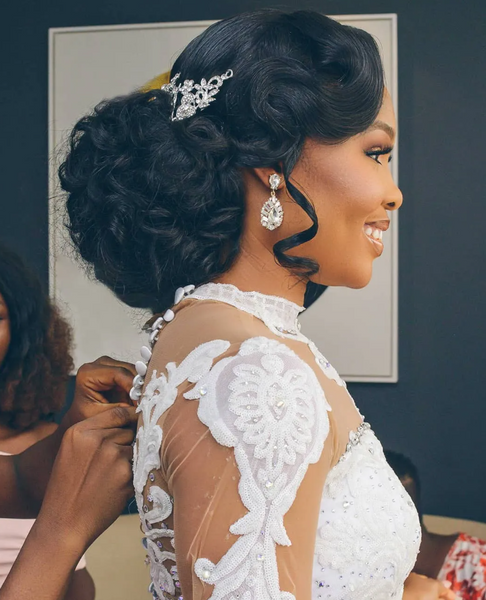 First, curl sections of your hair using an iron or wand. Then, loosely pin it up in the back with bobby pins. Next, tease the back for that messy chic look. Lastly, leave some curls loose to frame your gorgeous face. As a finishing touch, add some hair accessories like clips or headbands for some added bling. Look and feel amazing on your big day with this unforgettable hairdo. So let your inner star shine bright and show the world what you're made of!
In a Nutshell
Ultimately, these 20 wedding hairstyle ideas for Black women can help you shine on your special day. From voluminous waves to creative up-dos, you are sure to find the look that will bring out the best in you. Don't forget to accessorize with a cute head scarf or focal floral arrangement that really brings out your style.
Enjoy the planning process, and have fun along the way! We're sure everyone will be jealous of your unforgettable hair when you arrive at the "alter"! So go ahead and pick one of these stunning looks or create something new with the inspiration. We promise you'll look like a goddess!
---