How Long Is An 18 Inch Wig?
As we all know, hair length is a critical factor when choosing a perfect wig. Long hair tends to be more expensive than short hair as it requires more hair strands to make them look good. So what is the most popular hair length for a wig?
The answer is 14-inch wigs and 18-inch wigs. Both of them are versatile and can enhance your beauty effortlessly. 14-inch wigs are perfect for women who prefer bob or short hairstyles, and an 18-inch wig is a perfect medium-length wig that is suitable to create all hairstyles and fashion vibes.
In this blog, we will help you finger out everything about the 18-inch wig you want to know, like how long an 18-inch wig looks. Is an 18-inch wig fit for me? And what you should consider when picking an 18-inch wig. Let's get started!
When purchasing wigs online, we can always see many different lengths on the page. Have you ever wondered what that means exactly? Like how long is an 18-inch wig look like? Before we dive into this part, it is necessary to learn how to measure the wig length correctly.
How Long Does A 18 Inch Hair Wig Look Like?
With the same hair length, different hair textures affect how long your hair looks. It is common to see that wavy and curly hair looks shorter than straight hair. An 18-inch hair wig is equal to 45cm.
How Long Is A 18 Inch Straight Hair Wig
Obviously, you can see its actual 18-inch length in its entirety if your hair is straight. 18 Inch straight wig is a medium-length wig, not too long or too short.
18 Inch Straight Hair Features:
In general, an 18-inch straight-hair wig is supposed to reach your elbow. However, it also depends on your height and body proportion or your hair texture so that the hair can look different. It can be longer or shorter than your elbow.
18 Inch Straight Hair Hairstyle
Flipped-Out Straight Hair:
 This is an elegant and classic hairstyle that you can style to attend a variety of occasions. In addition, this hairstyle is a low maintenance hairstyle and easy to achieve, hold a flat iron or curling iron to do a messy flip-out curl, done.
Straight Long Black: 
This is the easiest and most classic hairstyle everyone can slay. You don't need to do anything with your hd lace wig if you buy a natural black straight wig except if you desire a bone straight vibe. Straight wigs come with a natural silk feeling, perfect for women who don't have time to deal with their hairstyle.
Blonde Brown Ombre Straight Hair:
A gorgeous blonde brown ombre will show off if you choose to wear your hair straight. This is a sassy and sparkly hairstyle that can't help attracting attention in the crowd.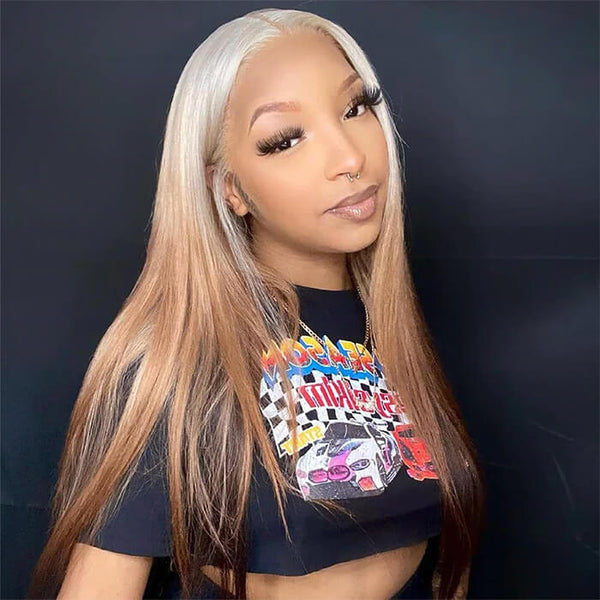 Side Part And Front Highlight: 
The front part is the point of this hairstyle, which can refine your face shape and make you individual. Hermosa hair offer this kind of color of straight hair, check out here.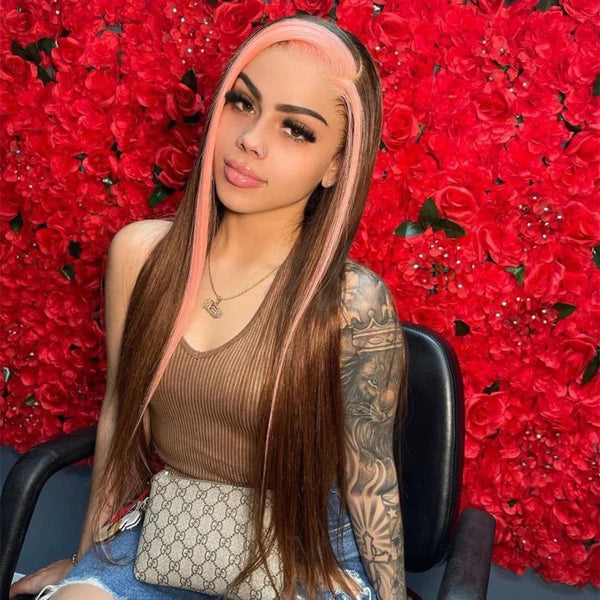 How Long Is A 18 Inch Wavy Hair
For wavy hair, the hair will look slightly shorter than its actual length because it has bends in the hair texture. So 18-inch wavy hair looks 2 inches shorter than 18-inch straight hair.
In general, 18-inch wavy hair can reach your bra strap. Whether want to slay a long wavy side part bob, layer boho wavy, half up bun half down, or romantic bouncy retro waves, you can go get 18-inch wavy hair.
How Long Is An 18 Inch Curly Hair Wig
Wigs that have a curly texture will appear about 4 inches shorter than the actual length of hair strands on the unit. This is because the hair has deeper curls throughout the length of the hair. So an 18-inch wig may appear 14 inches long. 
Normally, 18-inch wavy hair can reach your upper back. If you are wondering to get a hair texture that mimics your natural hair, curly hair is the first choice. Many women would love to opt for 18-inch wavey hair for a long bob style which gives the illusion the hair is growing from your scalp.
How To Measure Wig Length Correctly?
Normally, wigs are measured from the root of the hair around the crown to the ends. Curly and wavy styles are measured the same way, but when taking the measurement, the hair is pulled straight to get an accurate measurement. Here is how you can measure the wig length correctly.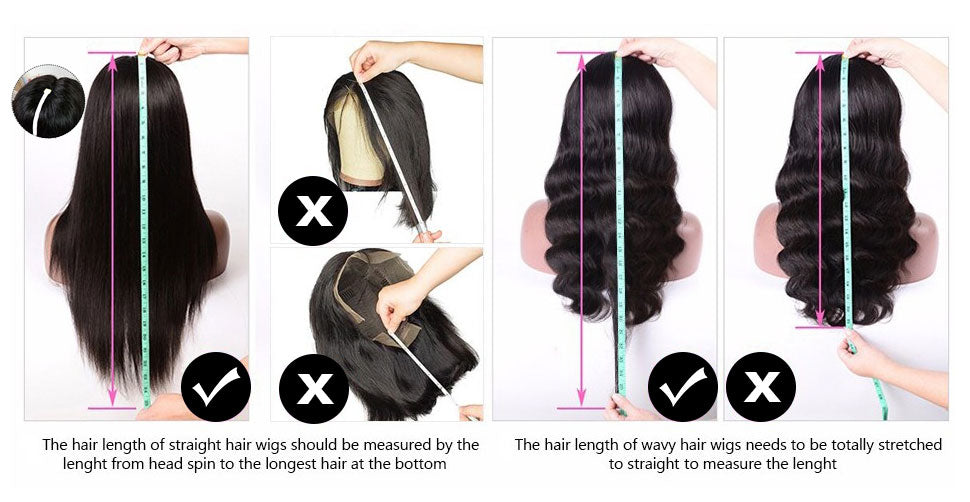 Step 1: Place a wig mannequin or foam head on a flat place and put your wig on, secure it with T pins. Adjust the wig hairline in the right position, running along the top of the forehead and the behind the ears.
(Tips: If you don't have a wig stand, lay your wig on a table or flat surface to finish the measurement.)
Step 2: Grap your soft measurement tape. Position the end of a flexible measuring tape at the crown of your wig. 
Step 3: Use your other hand to find the tip of the longest part in the back of the hair. Measure the length of the hair from the root to the longest part.
Step 4: Record the measurement.
Tips: This measurement method is for a straight wig, for a wavy and curly wig, there is another step you need to do to get the accurate measurement date-Stretch the hair.
When measuring a wavy or curly wig, the same as the straight wig. Start from the crown of the wig, grasp one end of the tape measure by your hand, and keep it fixed. The next step is the point, stretch your hair strands, make sure it is as straight as possible and check the measuring tape at the end of the hair and record the measurement.
Things You Should Consider When Investing A 18 Inch Wig
1. Hair Material
Hair material is the first thing we need to consider before investing in an 18-inch wig. Wigs are generally made from two main materials: synthetic hair and human hair. The most popular wigs are made from human hair as they offer the most natural look and are comfortable to wear. 
Human hair wigs are made from real human hair and can be restyled like your own hair. With proper care, human hair wigs can last over one year, that's is synthetic and not achieved.
2. Hair Texture
Hair texture plays an important role in the whole look. There are hundreds of different wig styles to choose from. If it's going to be your first time wearing a wig, you might feel a little nervous about the whole experience, but rest assured, there's no need to be scared!
The key is to consider your desired look. For example, if you don't have much time to deal with your hair and desire a low-maintenance wig, straight or wavy hair is a great choice. If you are chasing a natural and versatile hairstyle, opt for a curly hair wig. Warm reminder, 18-inch curly wig may look not as long as an 18-inch straight wig, it is recommended to go get a 22-inch wig to reach the same result as straight hair.
3. Hair Color
There are two factors you need to consider when investing in an 18-inch wig. Your skin tone and personal preference. If you have a warm skin tone, try out a warmer shade like warm brown, copper, honey blonde, or rose gold. If you have a cool skin tone, opt for honey, gold, or caramel instead.
It also depends on your personal preference, choose one that can make you feel confident, after all, confidence is the strongest weapon.
4. Lace Size
Lace size is an option you can skip. There are kinds of different lace sizes in the market, lace front wigs like 13x4, 13x6, and 360 wigs, closure wigs like 4x4, 5x5, and 6x6, no lace machine-made wigs like t part wig, v part wig, u part wig, headband wig, even wig with bangs, etc.
Here is a hair extensions length chart you can refer to.
Hair Extensions Length Chart
| | | | | |
| --- | --- | --- | --- | --- |
| Inches | Centimeters | Straight Hair | Wavy Hair | Curly Hair |
| 12 | 30 | Shoulders | Chin length | Below the ear |
| 14 | 35 | Upper back | Shoulders | Chin length |
| 16 | 40 | Bra strap | Upper back | Shoulders |
| 18 | 45 | Shoulder blades | Bra strap | Upper back |
| 20 | 50 | Mid back | | Bra strap |
| 22 | 55 | Mid back | Mid back | Shoulder blades |
| 24 | 60 | Lower back | Mid back | Mid back |
| 26 | 65 | Lower back | Lower back | Mid back |
| 28 | 70 | Waist | Lower back | Lower back |
| 30 | 75 | Hips | Waist | Lower back |
Hot Selling 18 Inch Wigs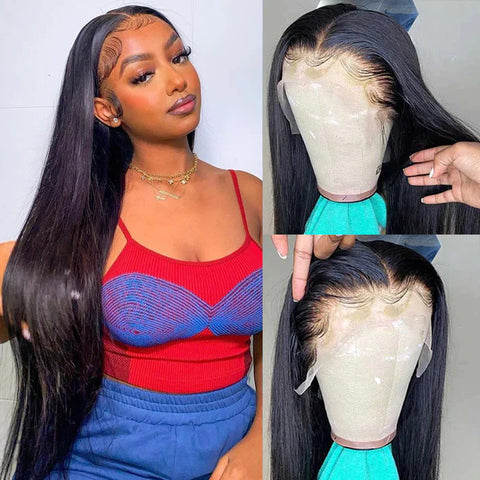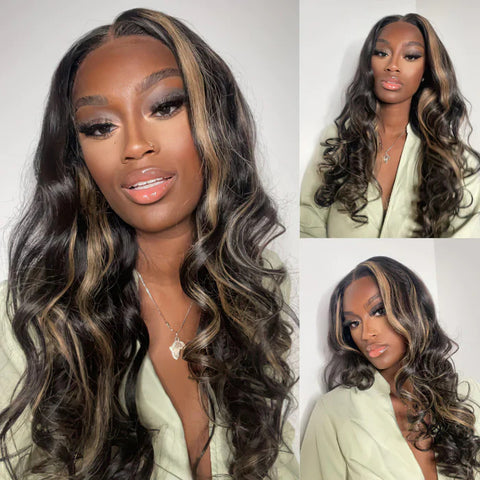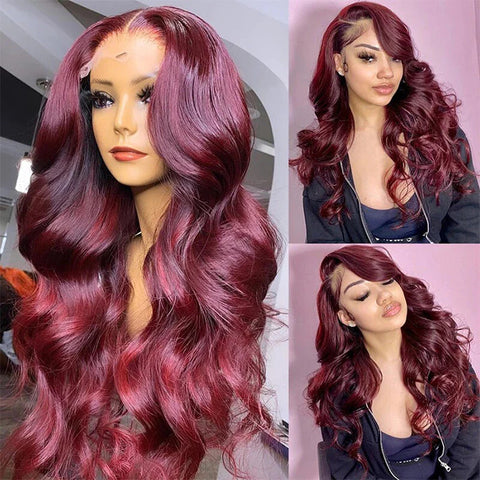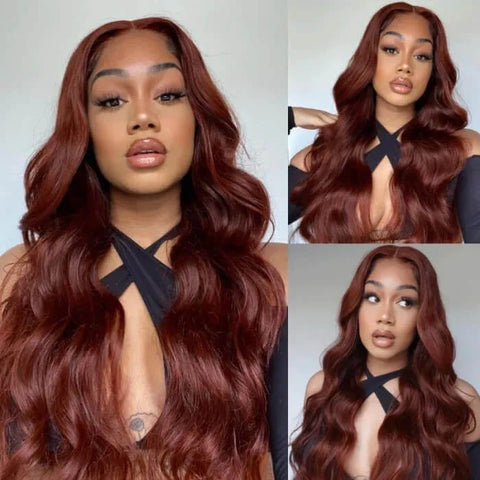 Conclusion
Hope this blog can give you some help when considering buying an 18-inch wig. If you love medium-length human hair glueless wigs, then 18 inches hair is a great choice whether you choose 18 inch hair extensions or 18 inch hair wigs, not too short and not too long, and easy to manage. But don't forget the different appearances on different hair texture of 18-inch wig, wavy hair and curly hair looks shorter than it supposed to. You can also check wig length chart to see the difference directly.
---