12 Best Human Hair Wigs For Black Women
There's no doubt that black women were inspirations for many fabulous hairstyles. Like braids, locks, twist braids, etc. They have always been trendsetters in the hair world. In this case, human hair wigs have become increasingly popular among black women since their ability to blend in with natural hair seamlessly. Some of them regard wigs as important accessories, while others want to protect their natural hair from excessive styling and heating when changing their appearance.
If you are looking for a wig that will help you get back your confidence in hair loss or want a brand new look without damaging your natural hair, here you come to the right place. In this blog, we will bring the 15 best human hair wigs for black women to flatter you the most.
First and foremost, it is essential to understand
What Are Human Hair Wigs?
As the name means, a human hair wig is made from 100% human hair. Human hair wigs are incredibly soft and glossy. They always appear a natural look and feel.
Why Are Human Hair Wigs Worth Invest?
1. Natural, Natural, Natural
The biggest pro of human hair wigs is their natural appearance. No matter the hair texture and the hair luster can bring a realistic look. In addition, human hair wigs always come with different sizes of lace in the front, which gives you a comfortable feel. What's more, the big the lace part is, the more natural look you can get. For example, a human hair lace front wig looks much more natural than a closure wig, which can offer a complete and natural hairline. Thus, the wig looks blends well with your hair, it is hard to tell you are wearing a wig.
2. Styling Versatility
Human hair can be cut, colored, heated, and styled just like your natural hair. You can curl it, perm it, part it, twist it or texturize it with a curling iron, or straighten it with a straightening iron. You can even dry your wig with a blow dryer.
There are endless hairstyles you can slay with a lace front human hair wig. But there is one thing you need to keep in mind: Cutting a wig can be done but it will never grow back. It is recommended to hand it to a professional hairstylist if you want to color your wig. But if you want to try to dye it by yourself, visit our dying wig tutorial to follow up step by step to avoid damaging your hair unit.
3. Longer Lifespan
Unlike synthetic hair, human hair wig is more durable and tend to last over one year with proper care. Despite the higher cost, human hair wigs are worth to invest since you don't need to replace them frequently.
4. A Variety Of Hair Textures To Choose From
There are many types of hair texture when choosing a human hair wig, like silky straight, body wave, curly, deep wave, etc. So you can match your own hair texture very closely.
Best Human Hair Wigs For African American Women
1. Kinky Straight 4x4 HD Lace Closure Wig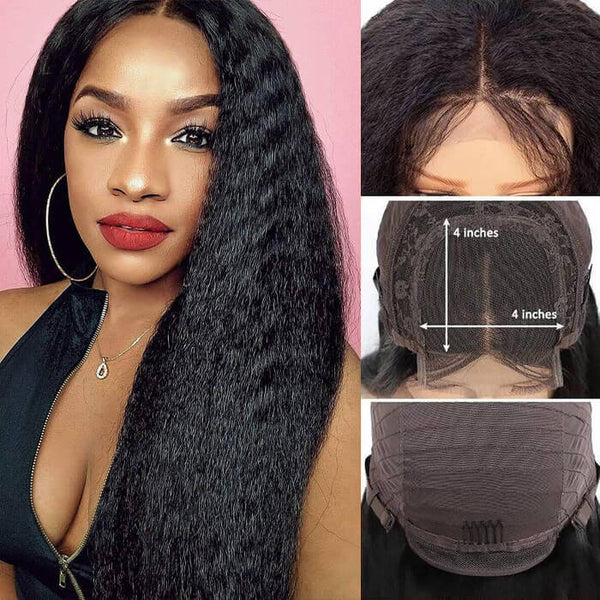 Kinky Straight Wig, also called "Yaki Straight Wig," is one of the most sought-after and popular textures among African American women. The texture of the kinky straight human hair wig is not quite straight nor curly. This wig is similar to African American hair and mimics the texture a lot. Perfect for anyone who is looking for a more natural and textured look. This unit comes with a 4x4 closure in front, easy to install and maintain.
2. 360 HD Lace Frontal Wigs Jerry Curly
There is no doubt that a curly wig is the first choice When most people think of textured hair. Curly hair is a hair type in which each strand loops around and creates a spiral. There are a variety of curl patterns in the curly hair collection, from kinky coils to giant, bouncy ringlets. 
This type of human hair jerry curly wig match with 360 lace frontal, which means you can part the wig from anywhere you want, there are endless hairstyles you can get with a 360 wig, from a side part, half up half down, to high ponytail. If you are thinking of getting an omnipotent wig, this one is the best!
3. Medium Length Sassy Bob Wig
For people who want to do a small change, there's no better way to switch up your look than with a short and sassy wig. These wigs come in all sorts of styles, from pixie cuts to bob-cut lace wigs, so you're sure to find one that suits your taste. What's more, you can feel free to put it on and take it off.
These wigs are also relatively cheaper than their longer counterparts, so they're a great option if you're on a budget. In addition, because they don't require the time-consuming processes of plucking, bleaching, and styling that other wigs do, the wigs are ideal for beginners.
4. Long Silky Straight Wig With Bang
As we all know, it can be a challenge to install a lace wig if you are a newbie, wigs with bangs are in fashion now and can help you out! The straight and shiny strands create a look that is both polished and casual. You will stand out in the crowd if you find the right color to complement your skin tone.
5. Wavy Blonde Skunk Stripe Wig
Skunk stripe hair are a trend since 2022 and it will continue trending in the future, even many celebrities like Beyonce and Rihanna have been spotted rocking this look. Why is it so popular among black women? Because there is so much fun with skunk stripe wigs. Hairstylists come up with so many color ideas with skunk stripe pieces, like pink, green, gray, ginger orange, blonde, etc. If you want a more professional look, consider pairing a warm honey blonde with deep black soft waves cascading down the shoulders.
6. Long Body Wave Glueless Lace Front Wig
Long wavy hair glueless wig is a perfect option for long-hair lovers who like to be classic, 99% of African American women will choose it. It's also common to see on INS and Tiktok. The "S" shape shows women's elegance the best.
7. Honey Blonde Headband Wig
A glueless headband wig is exactly what it sounds like: A wig where the hairline is masked with a headband. You can blend the headband to your natural hair or do some leave out to show your baby hair. This hue of blonde color works best on dark skin people, the curls frame your face well.
8. 613 Blonde Highlight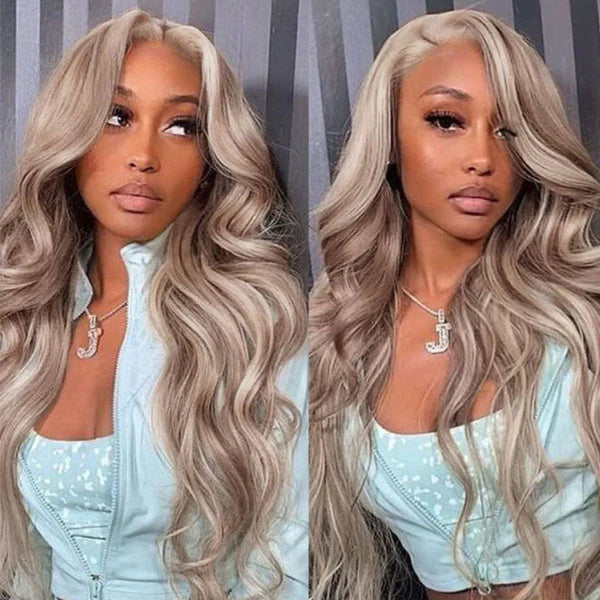 As we all know, 613 blonde hair color works well on all skin tones, including light and dark skin tones African American women. 613 can also be used to create some bomb highlight looks, like this P18/613 Blonde Hair With Highlights. This style is ideal for upscale parties, club outings, or even formal events.
9. Balayage Intense Pink Violet Highlight Lace Front Wigs
This kind of eye-catching color brings a mysterious vibe to women, abandoning the boredom of life. The subtle highlight won't interrupt your temperament but bring a little bit of dazzling. Whether you wear it at a party or on holiday, it can give you a fresh feel.
10. Curly Honey Blonde Highlight
The honey-blonde highlight hair color is an excellent choice if you want to enhance your facial features. Adding subtle golden brown highlights to the colored hair helps in improving the look further. Make this hair color stand out by adding soft curls to your hair!
11. Burgundy Wavy
Burgundy is a color that is associated with maroon, red velvet, and mulled wine. It is a bold and enthralling color and an excellent option for black women who have darker skin tones. You can either get this hair color all over your hair or get streaks done.
12. Reddish Brown Curly
If you're looking for a shade that will provide you with a autumn vibe, then this is a perfect option. This reddish brown curly hair is a gorgeous way to show your beauty, especially for black women. It is a trendy shade and will give your hair a fuller and healthier look.
How To Choose An African American Human Hair Wig
1. Length
When we are talking about picking a wig, the first factor we need to consider is hair length. There are short, medium, and long-length wigs to choose from, how to choose? The answer is according to your height and lifestyle.
For example, if you are not very tall, a longer-length wig may make you shorter. In this case, a short or medium-length wig can make you sassier and more delicate. If you are busy with your work all the time, you may don't have much time to style and maintain your wig, then go get a short one.
2. Color
When choosing a wig color, the first thing you need to consider is knowing your skin tone. If you have a warm skin tone, chocolate brown, chestnut, and blonde shade work best. If you have a cool skin tone, you should opt for a wig color like pink, platinum blonde, ashy brown, and jet black.
3. Hair Texture
Another important factor to consider when choosing a wig is the texture. Human hair has many different textures. Like straight, body wave, loose wave, deep wave, and curly textures. As for which one to choose, it depends on your face shape and preference. For example: If you have a long face, pointed nose, and chin, a wavy wig may suit you best which can soften the sharp angles of your face. 
4. Lace Color
Wigs also come in different lace colors, there are different types of lace in the market, like swiss lace and ordinary lace. Color from light brown, dark brown, and medium brown, to transparent lace and HD lace. When choosing the perfect wig, you want your lace to match your skin tone so that it is easier to blend when installing. Hd lace is the best among these lace which can melt into all color skin tones and offer a realistic look.
Wig Colors For Dark Skin Tones
Brown
Dark Brown Color
Reddish Brown
Red
Red Color
Blonde
Honey Blonde Hair Color
Wig Colors For Light Skin Tones
Brown
Orange Brown Highlight Color
Burgundy
Ombre Burgundy
Blonde
1B/27 Highlight Color
Conclusion
If you're looking for a change or want to try out a new style, consider one of the 12 best human hair wigs for African American women. From short and sassy to long and flowing, there's a wig on this list that's perfect for everyone. And with so many options to choose from, you're sure to find the perfect wig to help you achieve the look you've always wanted. So what are you waiting for? Try out a new look today!
---